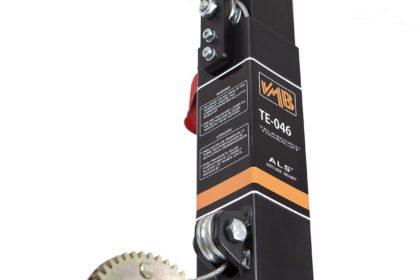 VMB release the NEW TE-046
Now available through your local dealer!
Based on our biggest selling towerlift, The TE-034 the new TE-046 is its bigger brother, maintaining its compact features whilst being able to lift a total of 150kg (330lb) to a height of 4.6m (15′).
It is made from 4 steel aluminium profiles, has an adjustable 3 position folding base and comes with a handle for easy transport.
We have now released the new TE-046 as part of our telescopic series of towerlifts.
It also includes our unique ALS (Auto Lock Security) system a safety feature which automatically locks the lift masts as they rise. The TE-046 towerlift is the ideal tool for any small to medium sized rental company looking to rig sound, light and/or Trussing quickly and safely.