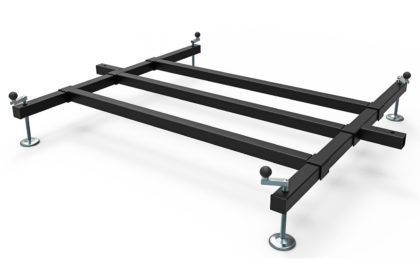 Introducing the new special kit CB-600 to lift P.A. from VMB.
Complete Lifting audio P.A. set:
2 TE-086 Lifters
1 CB-600 P.A. Kit
2 PSU-086 Truss Adaptor
1 TRS-29/2 Square 29cm Truss 2m
The sub bass enclosures are placed at the base forming a heavy compact block wich also stabilises the lifters. The only thing you need to do is turn the winch handle to lift the mid-high cabinets with the truss.
The TE-086 lifting tower is the most powerful of the telescopic series, able to lift 300kg to 6.5m in height. It has five large profiles which gives an incomparable resistance and stability to any other tower of its class. It has a larger winch with a high resistant, anti-torsion steel cable and is guided through reinforced pulleys.
The TE-086 is very easy to move with its 4 rotating wheels, and the possibility of installing the RH-1 transport kit, to lay it horizontally and make the transport in vans, trucks, etc. easier. It also has 4 powerful stabilizers in the legs, to level the tower in terrain with a certain slope. The TE-086 features automatic ALS locks, patented by VMB, that guarantee safety in the lifter.