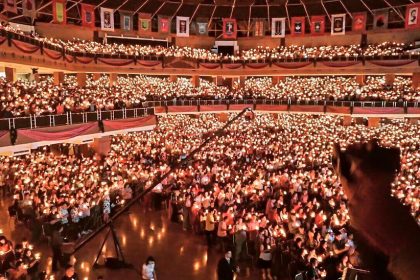 VMB CIRCLE TRUSS in INDONESIA
VMB circle truss of 30m of diameter!, made with 40x40cm VMB Circle truss has just been installed in one of Indonesia's largest Churches.
Graha Bethany Ngiden is a christian church located in Surabaya, East Java and has a capacity of 30,000. The church was built in 2000 and has gone from strength to strength. VMB is honoured to be have its trussing in the church. The circle is elevated to a height of 30m using 8 units of 500kg CM Lodestar Chain hoists with our own Motor Control Case by VMB, it algo has DTS Delta, Wonder and Nick NRG Led washes Moving Heads suspended from it. It was installed in time for the Christmas celebrations.
VMB has a wide range of alluminium trussing products, manufactured by us in our own factory in Valencia (Spain). We also have design experts, architecs and high proffesional riggers working with us in all our projects. All our structures can be certified by a Official College of Architecs, and our trussing products are certified.
For more information on VMB trussing please click here:
LINK TO VMB TRUSS