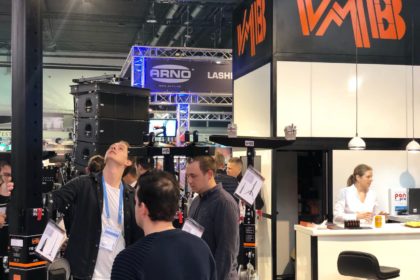 VMB

at Frankfurt's PROLIGHT and SOUND 2018
As always it was great to see all our distributors and customers from all over the world at Prolight and Sound 2018.
THANK YOU for coming by to see the

NEW SHOWLIFT AED-SL18

in action and for all your positive comments about it!
As you may know we were at  Prolight and Sound 2018 from Tuesday 10th to Friday 13th April 2018. We were also able to show our 2 brand new lifters too, the TL-063 front loader and the TL-A400/8 line array lifer, now our tallest Line array lift able to elevate 400kg to a height of 8.2m. Both of these towers comply with thew DIN regulation.
Click here for more information on this: NEW DIN 56950-3 and DGUV 17.
Here you can see a few pictures of our booth at this years Prolight and Sound 2018 in Frankfurt.